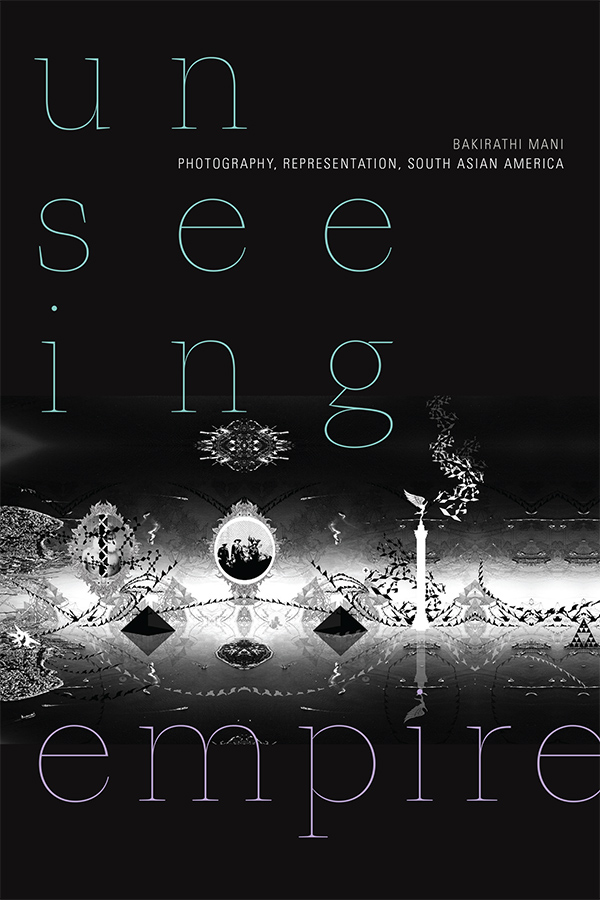 Unseeing Empire: Photography, Representation, South Asian America (Duke University Press, 2020)
In Unseeing Empire Bakirathi Mani examines how empire continues to haunt South Asian American visual cultures. Weaving close readings of fine art together with archival research and ethnographic fieldwork at museums and galleries across South Asia and North America, Mani outlines the visual and affective relationships between South Asian diasporic artists, their photographic work, and their viewers. She notes that the desire for South Asian Americans to see visual representations of themselves is rooted in the use of photography as a form of colonial documentation and surveillance. She examines fine art photography by South Asian diasporic artists who employ aesthetic strategies such as duplication and alteration that run counter to viewers' demands for greater visibility. These works fail to deliver on viewers' desires to see themselves, producing instead feelings of alienation, estrangement, and loss. These feelings, Mani contends, allow viewers to question their own visibility as South Asian Americans in U.S. public culture and to reflect on their desires to be represented.
Read the introduction to Unseeing Empire.
Praise for Unseeing Empire
"Bakirathi Mani demands that we expand the geographic and temporal frame through which to grasp South Asian American representation so that we can engage with the processes of US settler colonialism and racialization. Unseeing Empire makes an outstanding contribution to Asian American, and South Asian diaspora and visual culture studies."
— Gayatri Gopinath, author of Unruly Visions: The Aesthetic Practices of Queer Diaspora
"Beautifully written, meticulously crafted, and combining powerful personal reflection with rigorous scholarship, Unseeing Empire brings various sets of photographic archives and practices of the early twenty-first century into conversation, from fine art photography and vernacular images to ethnographic pictures. This impressive book makes a vital contribution to several fields including contemporary art and visual culture studies, museum and curatorial studies, postcolonial theory, and Asian American and American studies."
— Nicole R. Fleetwood, author of Marking Time: Art in the Age of Mass Incarceration
---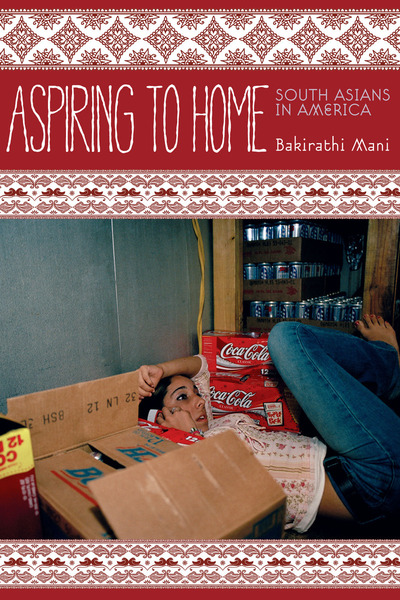 Aspiring to Home: South Asians in America (Stanford University Press, 2012)
What does it mean to belong? How are twenty-first-century diasporic subjects fashioning identities and communities that bind them together? Aspiring to Home examines these questions with a focus on immigrants from India, Pakistan, and Bangladesh. Advancing a theory of locality to explain the means through which immigrants of varying regional, religious, and linguistic backgrounds experience what it means to belong, Bakirathi Mani shows how ethnicity is produced through the relationship between domestic racial formations and global movements of class and capital.
Aspiring to Home focuses on popular cultural works created by first- and second-generation South Asians from 1999–2009, including those by author Jhumpa Lahiri and filmmaker Mira Nair, as well as public events such as the Miss India U.S.A. pageant and the Broadway musical Bombay Dreams. Analyzing these diverse productions through an interdisciplinary framework, Mani weaves literary readings with ethnography to unravel the constraints of form and genre that shape how we read diasporic popular culture.
Read reviews of Aspiring to Home here.
Praise for Aspiring to Home
"Working with a truly innovative archive, Mani compellingly argues that merely 'adding on' South Asians to the litany of ethnic and national-origin identifications that circulate under 'Asian America' is thoroughly inadequate to pursuing the study of racialization in ways that take seriously the intimacy and depth of the relationship between the local and the global.
—Kandice Chuh, CUNY/The Graduate Center
"It is essential reading for scholars interested in diaspora, immigrant community formation, transnational migration, Asian American studies, and applications of post-colonial theory. . . . I highly recommend the entire book for graduate seminars focusing on migration and diaspora."
—Ishan Ashutosh, International Migration Review
"An elegantly written and trenchantly argued book."
—Martin F. Manalansan IV, University of Illinois, Urbana-Campaign
For more information on the first printing of the book, click here.
Read more about Bakirathi Mani's research on South Asian diasporic visual and public cultures in relation to her books, Aspiring to Home and Unseeing Empire, here.